We are very excited to announce that Fissure has been officially accepted into two, upcoming film festivals: AFI Dallas and FirstGlance Hollywood.

AFI Dallas
We will be having our World Premiere at AFI Dallas this year! It is an honor to be kicking off the Texas Competition with a screening on opening weekend, Friday, March 28th at the Angelika Theater at 5:00pm. We will also have an additional screening of Fissure on Thursday, April 3rd at the Magnolia Theater at 7:30pm. Tickets go on sale this weekend. You may purchase them from the AFI Dallas website.
For those of you in the Dallas area, we will be giving away two tickets to the opening night screening of Fissure. Our lead actor, James Macdonald, along other cast and crew members will be joining us as well for the screening.
Here's how you can win tickets:
Register for the movie eNewsletter by clicking on this link. Under "How did you hear about Fissure?", be sure to select AFI Dallas.
We will be notifying the winners prior to the start of the festival. We look forward to having you join us at the AFI Dallas film festival this year.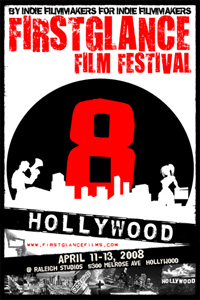 FirstGlance Hollywood
We are also very excited to announce that Fissure has been accepted into the FirstGlance Hollywood Film Festival. Fissure is one of only three feature films that will be screening at the festival. Fissure will be the opening night feature film at the festival.
We are very honored that we are part of this influential film festival.
For those of you in the Hollywood area, Fissure will be screening on Friday, April 11th at the Raleigh Studios Chaplin Theater at 5300 Melrose in the heart of Hollywood. You can get ticket information from the FirstGlance website.
FirstGlance Hollywood was named "one of the top 10 film festival investments" by MovieMaker magazine. And, Time magazine names FirstGlance Hollywood "one of the top ten festivals for the rest of us."
We hope you can join us in Hollywood!